Next:
Path Unfolding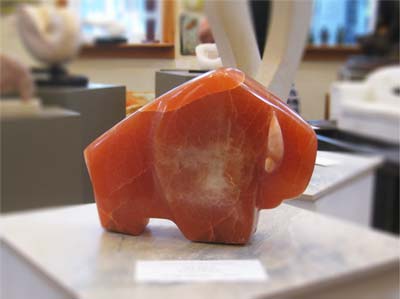 One of my favorite stones, Orange Alabaster is a miraculously pretty. Yet like some other stones, it is not possible to know what kind of colors and patterns will emerge as carving progresses.
I was so fortunate to meet this little piece of stone. From the beginning, the stone was speaking to me that he wanted to be a bison. Many years ago, I saw a large photo of a bison head covered by frost and freezing snow and it's been in a deep part of my mind. He was enduring and strong, but also sad and beautiful.
The orange bison shows some specific looks. There's a shaggy coat on top of it, and one side of his body looks as though covered by many layers of coats. One of his horns turned out to be white in color. He is quiet, yet his innate quality reflects in the shining orange color.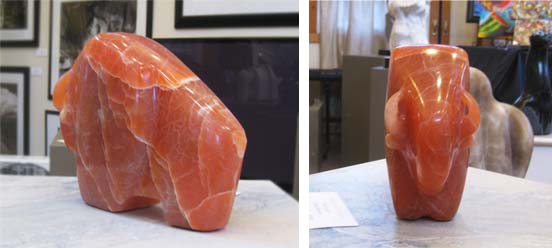 Two years ago, I was able to realize one of my dreams to visit Yellowstone National Park. I saw bison herds for my first time at such a close distance. An overwhelming presence...! It is the American legend animal. Fifty million bison once roamed the American prairie, before being hunted to the brink of extinction. Today this keystone species is making a comeback.
In the process of carving stones, every step seems to involve a little anxiousness for me. The rough stone (left), was after finalizing the design. I was hoping that the stone would lead me in the right direction and that I could keep on feeling it...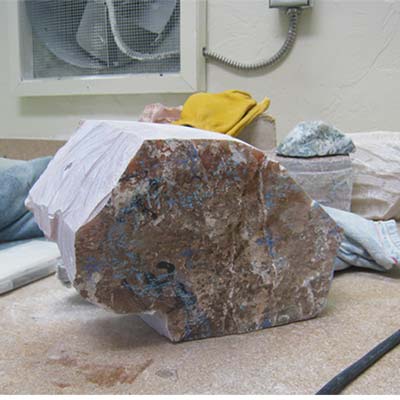 The color of most of the raw stone is unclear and not beautiful. Spraying it with water brings out its real color which you get when you polish it up.
The vender, Myles is a very fun and compassionate person. Although he is also an excellent business man who always gives us useful information and lots of knowledge, he doesn't need to tell us almost anything about his stone display. All he needs to do is to collect all sorts of interesting stones from all over the world and simply display them in front of us! It becomes a super attractive Candy Store for sculptors. All of us feel "I want them all !!", like a five year old kid. We walk around the stone display back and forth, with a water spray bottle...!
I heard from the owner of the gallery, where this piece was exhibited, that a painter bought it for her husband's birthday gift. Happy birthday Mr., and happy home, Fire Bison!