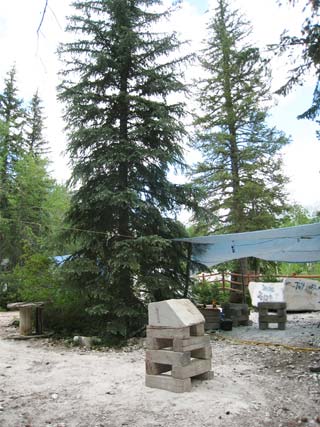 I had never thought about sculpting stones by myself. In Japan, nobody carves stones except some limited professional artists. It was something outside of my world, like being an astronaut on the first ship to Mars, living in Safari land becoming a top tour guide, or discovering an important equation like E=mc².
One day I had a thought, when I saw some sculptor was modifying his plaster model, that " I can do it better". It was a silly thought, but maybe it was a gift of a seed the Universe dropped in me.
I found out the places to carve, some great sculptors to teach me, and joy and passion for the stones and carving. And I even found out many wonderful friends who are sculptors and some non-sculptors. They continue to be here in me and with me as my treasure.
I would like to share my sculptures, about carving stones, and what the experiences made me think and notice about stone carving art and life. The left photo is my first encounter with a stone for me to carve. I had never seen a raw stone in person, and of course I had never touched one. I had not known about the carving tools, the process of carving, and even how heavy stones are. The photo is symbolic to me. My first stone on dunnage deep in the Colorado mountains, middle of nowhere, where you can't use a cell phone.
The proverb of Goethe on the banner became my cherished motto, as I feel like it exactly expresses how I began and continue carving. Even though I didn't regard myself as an adventurous person, I could say that I was bold and that I came so far magically...
---
Gallery