Next:
Wind Dreams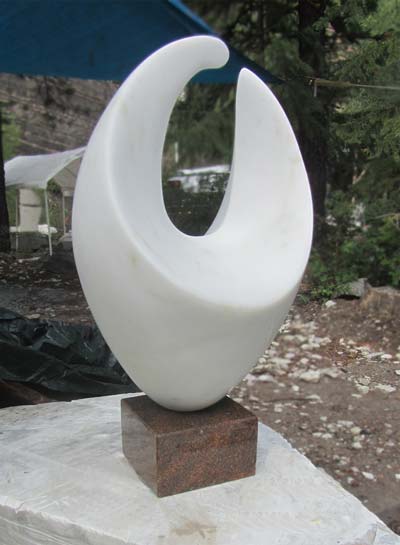 The year was a significant turning point in my life. I wanted to carve something symbolic to my status. I thought about the wings of bird since I was feeling as if flying out into a new world unknown.
It turned out that it also looks like an egg. And it was not only one, but three eggs, including the negative spaces in the front and in the back. The egg has been a universal symbol of expressing a new beginning since ancient times. The piece completed and I felt it had a quiet and grounded energy, and also it looks as if it is ready to take a flight. So I named it "Silence Before Flight".
Although anything could be challenging, making smooth lines and surfaces, and a symmetrical shape were the main challenges for this piece. Sounds like life ? .... something we expect to be simple or looks simple isn't so simple.
In the process, as you could guess, to open up the top end of the egg and split it to two was the last bit of carving. Marble is usually strong enough, but sometimes it could be fragile depending on the shape and the vein.... and luck! I was very happy to be able to work in the pretty environment in the woods. Carving in the woods..... sounds like Heaven!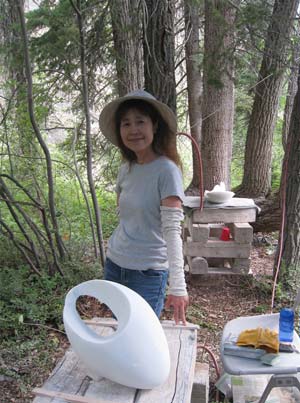 Colorado's Official State Rock, Yule Marble was created by heat from the Treasure Mountain laccolith. The clean white marble deposits of the Yule Creek were first discovered in the late 1870's. The most remarkable characteristics of the Colorado Yule Marble deposit are its quality and purity. This pure, white stone from Marble Quarry was used in the Tomb of the Unknowns and the Lincoln Memorial etc.
The pillars of the Lincoln Memorial were cut out in the Marble Mill Site, and the outer parts after taking out the center cylinder were left there. Now those outer parts became the walls of the shower rooms in Marble Sculpting Symposium ground. If everybody spent a little time to polish the marble wall every time they take shower, those three rooms would be gorgeous shower rooms, maybe more unique and beautiful than a presidential suite in the Ritz Carlton....! But even as they are now, it feels so wonderful and special to take a shower surrounded by marble walls , looking up the blue sky and beautiful greens on a summer afternoon.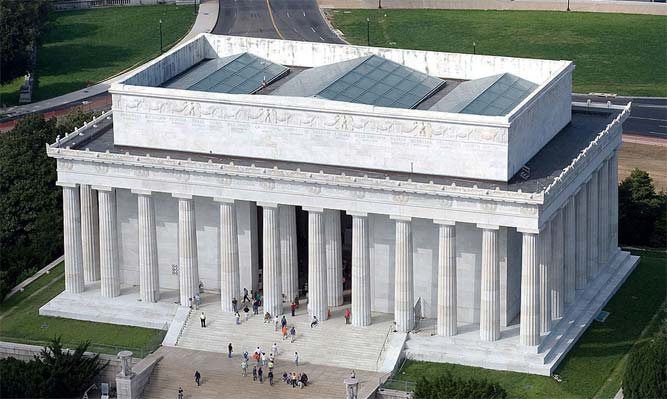 What a honor that my friend in Tucson liked this piece and bought it, who is herself a sculptor and art collector. At that time I said to her that I didn't have a very long carving experience. She said " it doesn't matter. I like this very much." It was such an encouraging compliment.
Thank you, Ms. K.